It is more economical to spread the cost of shipping over a number of items, consider getting a group of friends together to place an order so you can lower the transport cost for everyone.
New Zealand
Orders over $125 are shipped free to urban addresses (rural addresses incur shipping fees at any value).
Orders under $125 incur a $8.00 shipping charge to urban addresses.
Shipping to rural address costs more. The cost of shipping will be visible at checkout once your address is entered, you will be fully informed of the cost before you commit to your purchase. Rural shipping is expensive, consider having your order sent to whanau or friends with an urban address or use a PO Box address if one is available to you.
Items are sent by tracked services. You will receive your tracking information when your order is shipped.
Needles cannot be sent in envelopes via letter post – the sorting machinery damages the needles. All items are sent by courier in appropriate protective packaging.
Club shipping is unique. Club shipping is calculated at checkout for the specific destination the club is going to. Clubs do not qualify for free shipping. Please do not add other non-club products to your cart when purchasing a club.
Auction shipping is unique. Auctions do not qualify for free shipping. See the full auction terms and shipping costs.
Contactless Pickup
Dunedin residents may pickup orders free of charge from me in Maori Hill. When your order is ready for collection you will be sent the address for collection.
If you don't live in Dunedin but are visiting or have someone here who can pick an order up for you, you can access the local pickup option at checkout by using a Dunedin address in the delivery address section. Feel free to use the following details: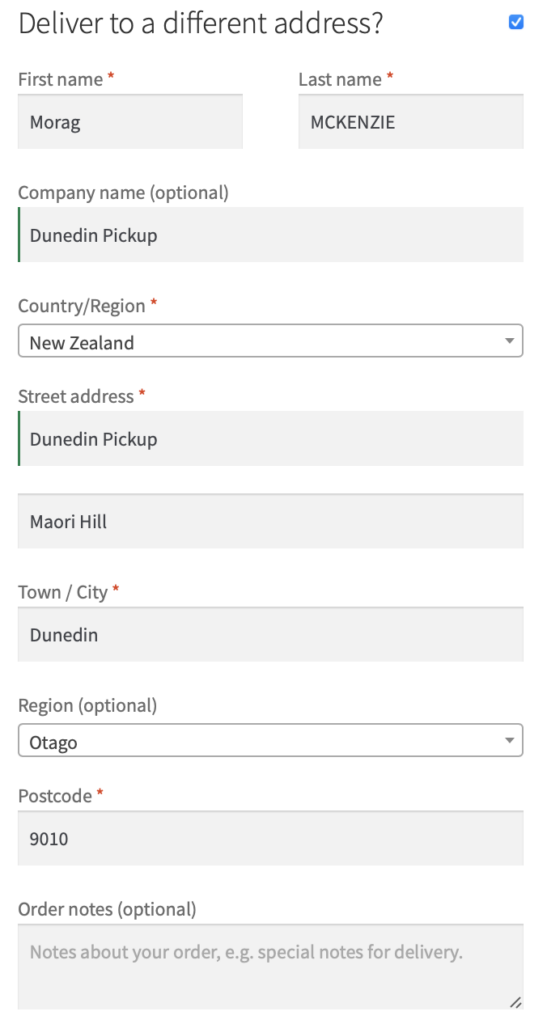 International
Our system is setup to calculate shipping costs to most international destinations, you do need to proceed through the checkout process and enter your address to get a shipping price, you can cease the transaction at this stage if the shipping price is not acceptable to you. International customers (those with a billing address outside of New Zealand) do not pay local tax (GST), the tax free price will be shown once you log in. Sometimes, the auto-calculation can not cope with all products and destinations – please don't hesitate to get in touch for a shipping quote.